Jefferson Union
Serving Our Customers for Over 100 Years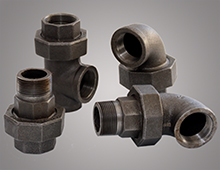 Ready to Serve You Today.
Principally, our products fall into two major categories: Brass-to-Iron unions and Iron-to-Iron Unions (or All-Iron Unions as they are sometimes called). We offer these in a variety of sizes, and 150#, 250# or 300# PSI applications.
Jefferson can furnish any and all Unions and Convenience Unions in their complete line with either Brass Seat or Iron Seat. In the manufacturing process you cannot rely on the softness of brass to overcome inequalities in the machining, as is done by many makers of brass seat unions. All of our Malleable Iron unions are carefully machined by skilled workmen, the two end parts are ground together in pairs and assembled that way to assure a perfectly tight, leak-proof joint.
Jefferson has extensive experience in the design and manufacturing of Specialty Unions. We are always available to analyze your Union design problems, and we will be pleased to submit quotations on any Union Specialties.
Jefferson Union has satisfied the exacting demands of many of the largest chemical, oil, gas, mining and other process companies over the years, and we hope to satisfy yours.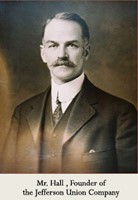 Our History.
In the 1880's a gear company ran at 31 Fletcher Avenue in Lexington, Massachusetts. The Jefferson Union Company purchased this site in 1901 and founded and built their pipe fitting company there. The company quickly became known for the superior quality of its pipe unions and developed several patented products that set the pace within the industry.
Mr. Edwin Hall was the first owner of the company. He also owned a plant and foundry in Rochester, N.Y.  Around 1914, Mr. James Freeman became the president of Jefferson Union.  In 1958 Mr. Jim Freeman became owner of the property and company until his retirement in 1978.

During the height of production, there were two to three shifts that were running in this plant with over 115 people employed. You can find many of the products the Jefferson Union manufactured in places such as the Union Station, the old Boston Garden, Ford Motor Company Plants, Dow Chemical, numerous municipalities and government agencies, the railroads, and the Shipyard at Sparrows Point, Maryland (owned by Bethlehem Steel).

George Meadows grew up in Lexington, Massachusetts. His father began working at the Jefferson Union Company in 1918 when he was a teenager. George began work here in 1956 and took over ownership in 1978. George Meadows owned and ran Jefferson Union Company on this site from 1978 until the year 2005 when he moved the business to Deland, Florida, a town northeast of Orlando. In 2004, the family business was turned over to Georges son David and operations continue in our Deland Florida and now Port Orange Florida plants.
Today there are fewer than five iron pipe fitting manufacturers remaining in North and South America, including the Jefferson Union company. Even today, in a world filled with companies sending their work overseas, Jefferson Union is proud to be one of the few remaining domestic manufacturers.